The top 10 Twitter analytics tools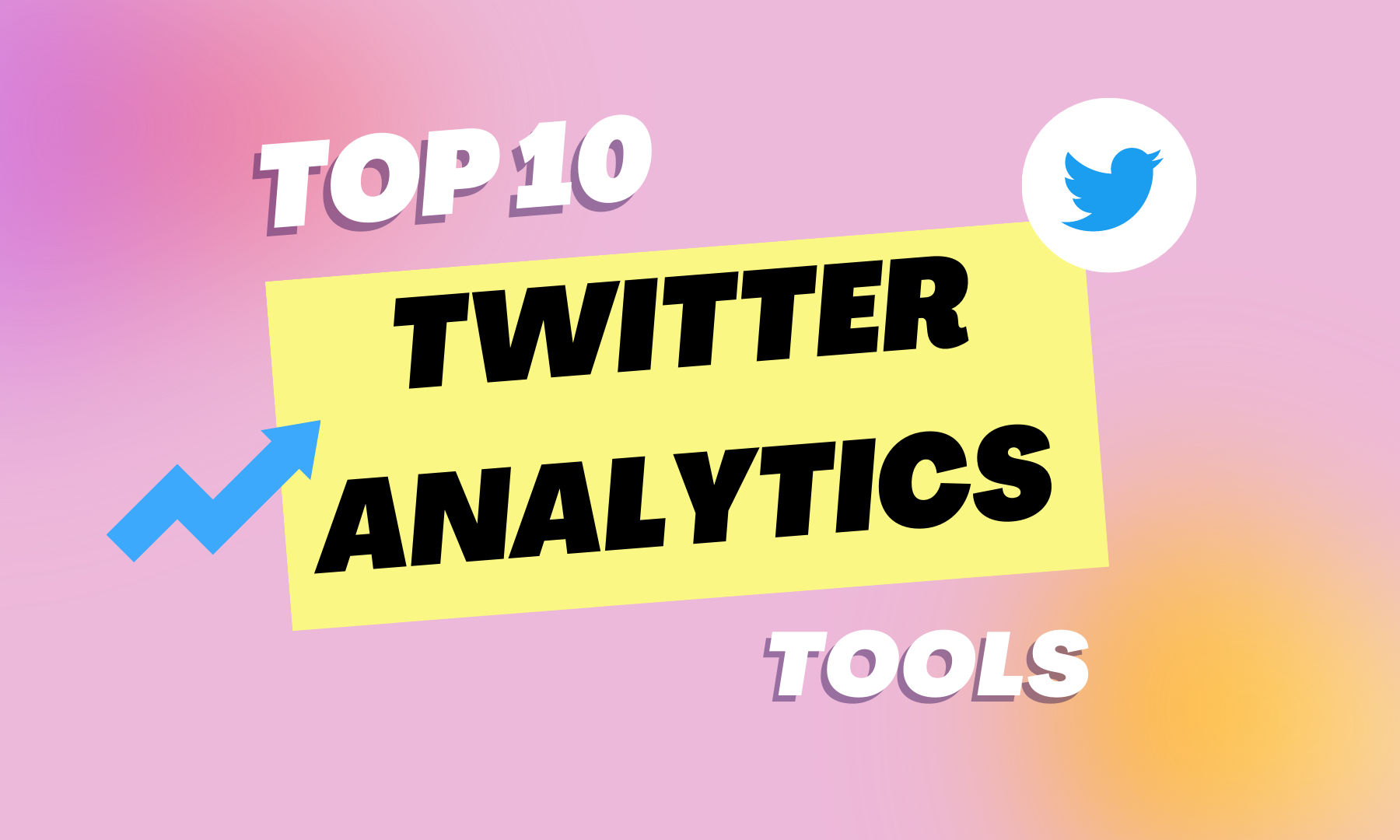 Twitter allows marketers to connect with their customers and promote their business in an authentic way. But to make the most of your Twitter marketing strategy, it's important to track your performance and analyze your data. In this post, we're looking at the top 10 Twitter analytics tools that can help you measure your engagement, follower growth, and more.
Measuring engagement on Twitter is crucial for understanding how your audience is interacting with your content. Here are the top 10 tools for Twitter analytics every marketer needs to know.
Twitter Analytics is a free tool developed by Twitter that provides basic insights into your tweet activity, including impressions, engagements, and link clicks. This is a beginner-friendly app and a great place to start measuring your Tweets' performance.
Price: FREE
Main advantage: Twitter analytics is the native Twitter analytics app and everyone can use it for free.
Website: https://analytics.twitter.com
Pallyy allows you to manage multiple social media accounts into one dashboard, including Twitter. With Pallyy, you can plan your tweets and threads in advance to grow your engagement with your followers.
Pallyy allows you to measure your follower growth, engagement, impressions, and keyword mentions and turn complex data into easy-to-read analytics reports. Additionally, you can even generate tweets from a keyword with the inbuilt AI caption writing tool.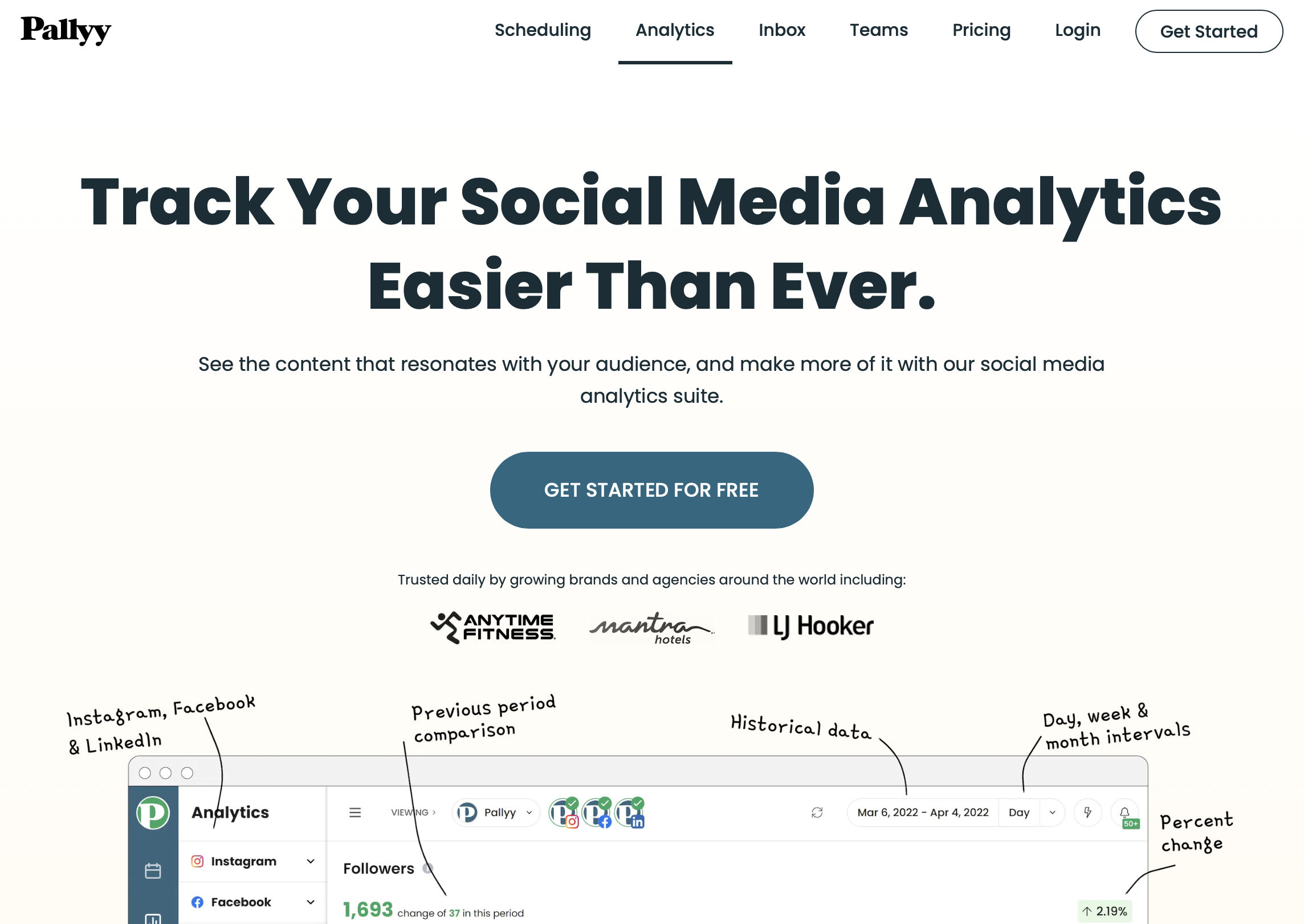 Main advantage: Pallyy is a great time saver, and is one of the most affordable social media analytics tools in the market.
Price: Free plan, paid plans start at $15/mo. for 1 social set (6 channels)
Website: https://pallyy.com
SproutSocial is a professional social media management tool that offers in-depth analytics for Twitter, including engagement and competitor benchmarking. Additionally, Sprout Social's social listening feature allows you to monitor conversations about your brand across the web.
By tracking these metrics with SprouSocial you can adjust your Twitter strategy to better connect with your audience and keep them engaged.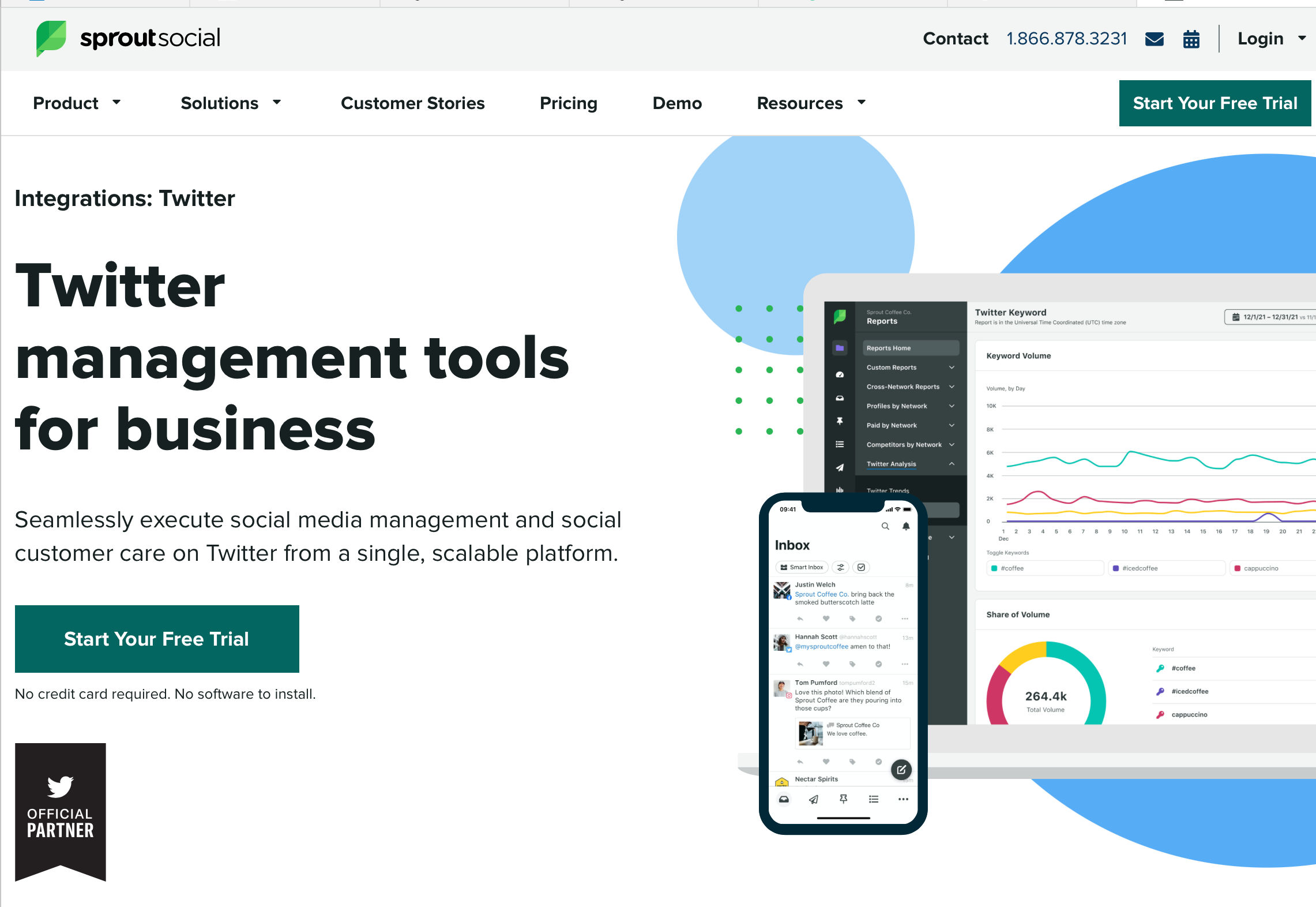 Price: from $240/mo.
Main advantage: SproutSocial has powerful social media analytics & listening features and CRM features
Website: https://sproutsocial.com
Hootsuite is another analytics tool that helps you track your Twitter metrics and optimize your engagement with followers.
Start by choosing the metrics, track your performance against your goals, and summarize it into detailed analytics reports. From there you can see what's working and what's not so you can improve.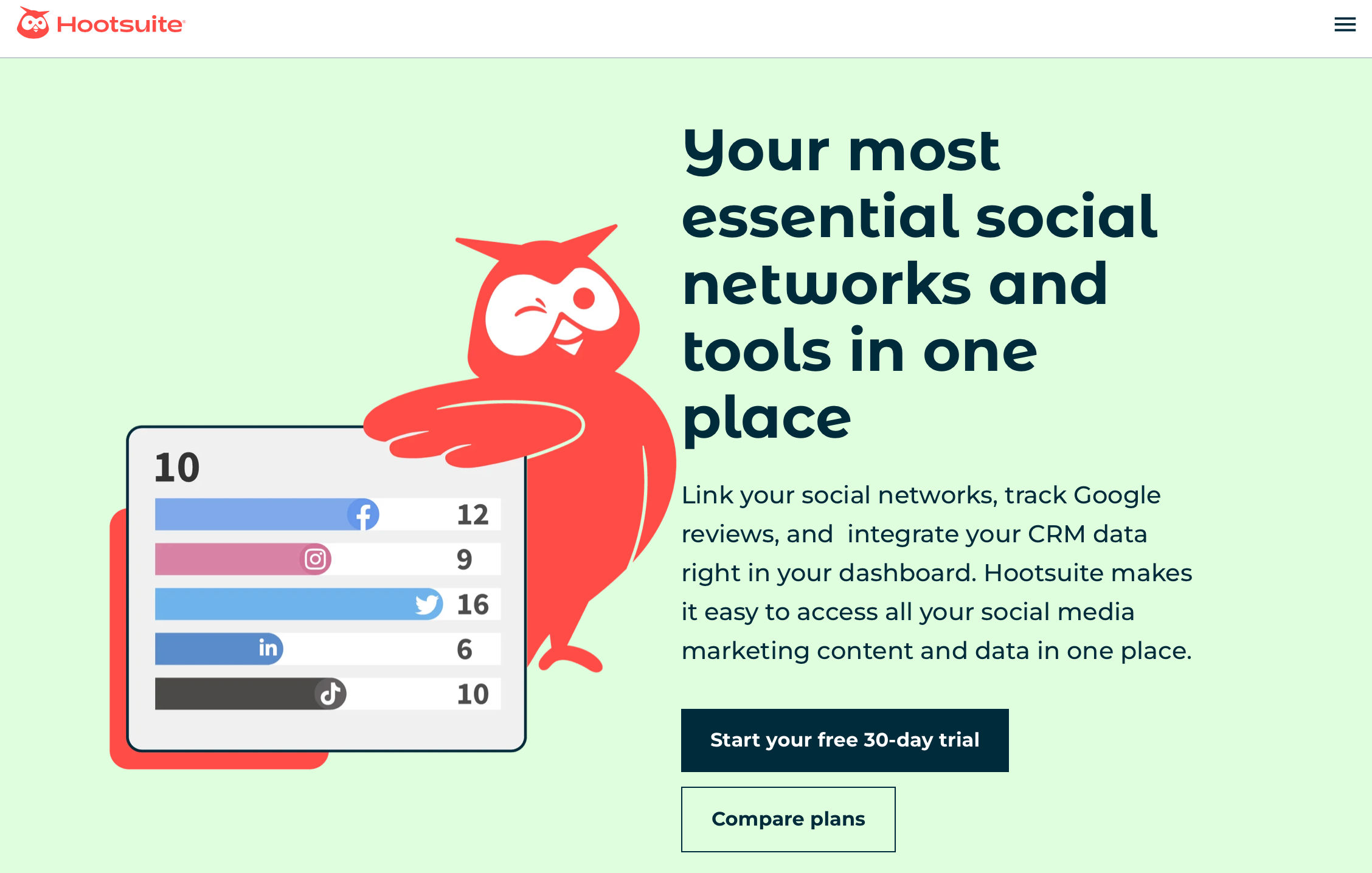 Price: from $99/mo. for 10 social channels
Main advantage: Hootsuite offers up to 150 app integrations to make social media management easier, but some come at an extra cost
Website: https://hootsuite.com
Sendible offers a comprehensive solution for marketers looking to manage their entire digital presence from one place. With features that allow you to publish content across multiple platforms, including blogs, social media, and emails, Sendible helps you streamline your workflow and save time.
Additionally, Sendible's Twitter analytics offer valuable insights to help you track and drive real ROI results from your Twitter marketing campaigns.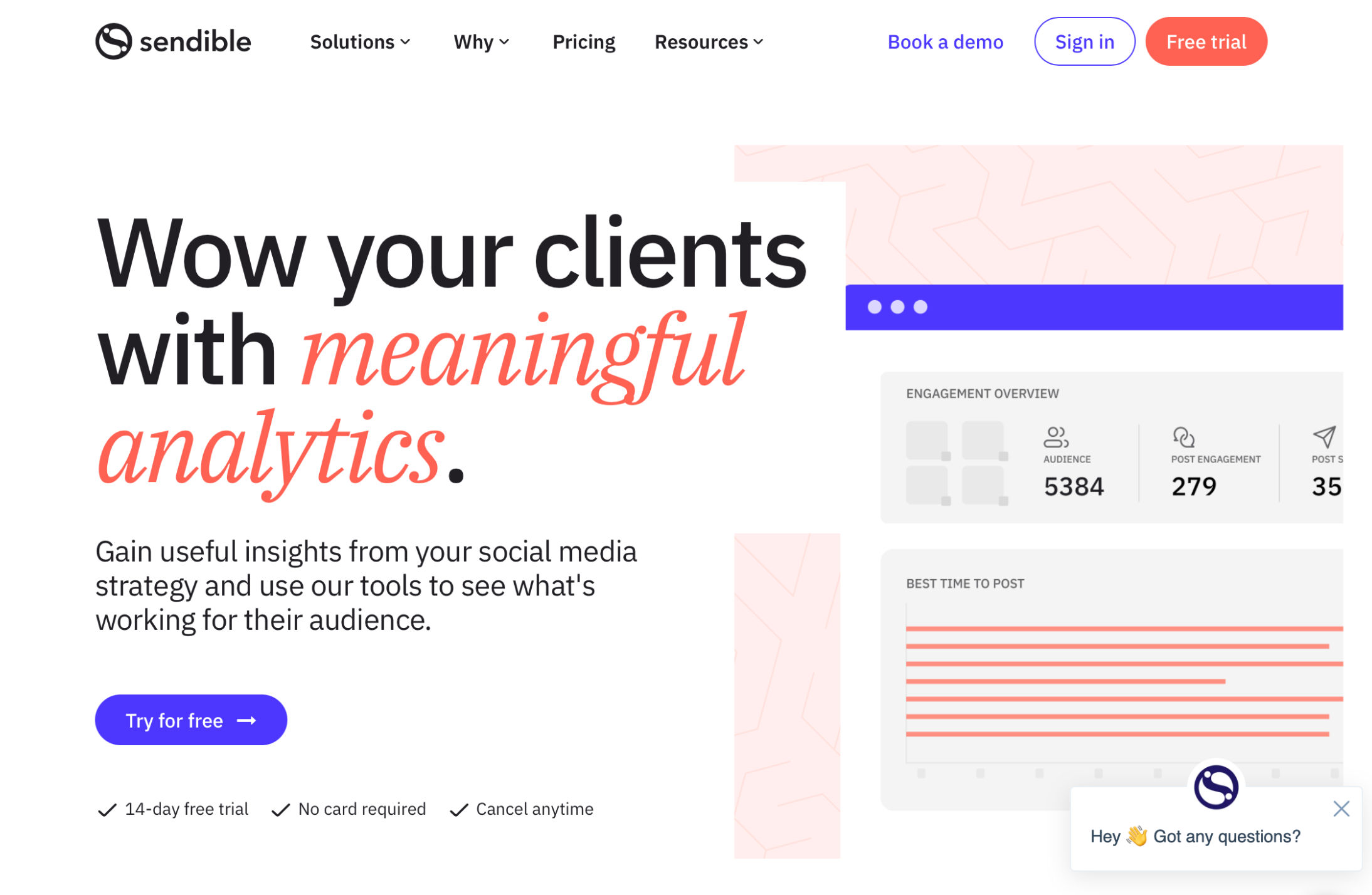 Price: from $25/mo.
Main advantage: Sendible helps you integrate and manage your entire digital marketing strategy in one place
Website: https://sendible.com
Brand24 is a social media listening tool that allows you to analyze your Twitter marketing results.
With Brand24, you can find out in real-time what your audience is talking about your brand on social media, newspapers, forums, review sites, and blogs and ensure that your Twitter presence is helping you grow your sales.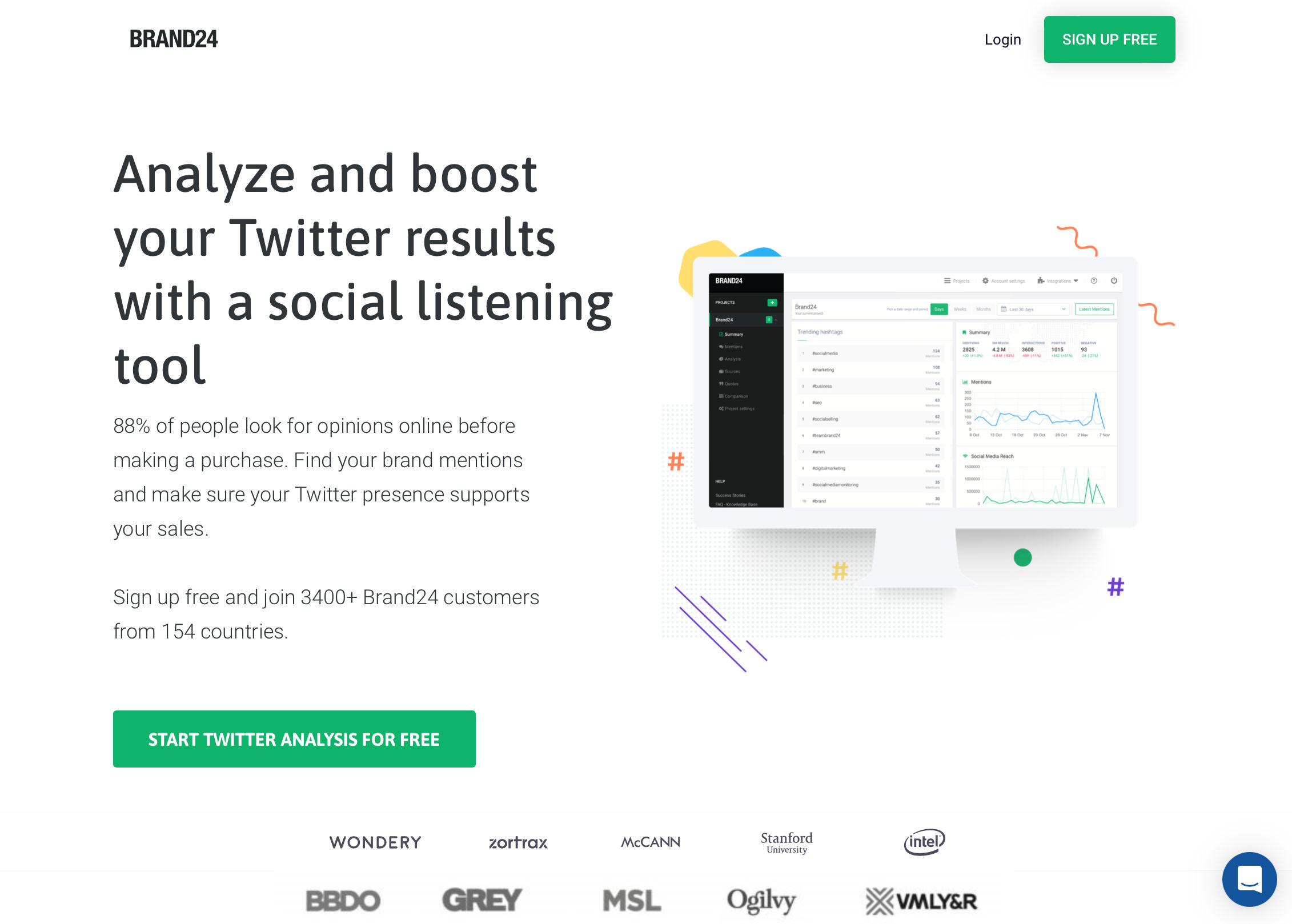 Price: 79/mo.
Main advantage: Brand24 offers you a 360 view of your brand mentions across the internet
Website: https://brand24.com
Social Pilot is a social media management kit for marketers who are looking to schedule posts in bulk directly from a CSV file. For example, you can upload and schedule up to 500 tweets with images and links from a single file.
You can also use Social Pilot to track your Twitter insights including mentions, keywords, engagement, and generate white-label reports.
Price: from $25.50/mo.
Main advantage: Social Pilot can help you save time and publish more content in bulk
Website: https://socialpilot.co
TweetBinder is a Twitter hashtag analytics tool that allows you to analyze Twitter hashtags and measure your brand sentiment. This tool can help you to plan the right hashtags to use in your tweets based on popularity, economic value and sentiment.
Ideally, you should try to avoid associating your brand with banned keywords or words with negative sentiment.
Price: Free reports, paid plans from 229.99/mo.
Main advantage: TweetBinder is best used for identifying hashtags to use on Twitter
Website: https://tweetbinder.com
Keyhole is a social media listening tool equipped with Twitter analytics & reporting features to help you monitor what people are saying about your brand.
Their hashtag and keyword listening feature allows you to analyze top conversations in your industry in real-time.
You can also create and track hashtag campaigns, keep an eye on your competitors, and generate reports.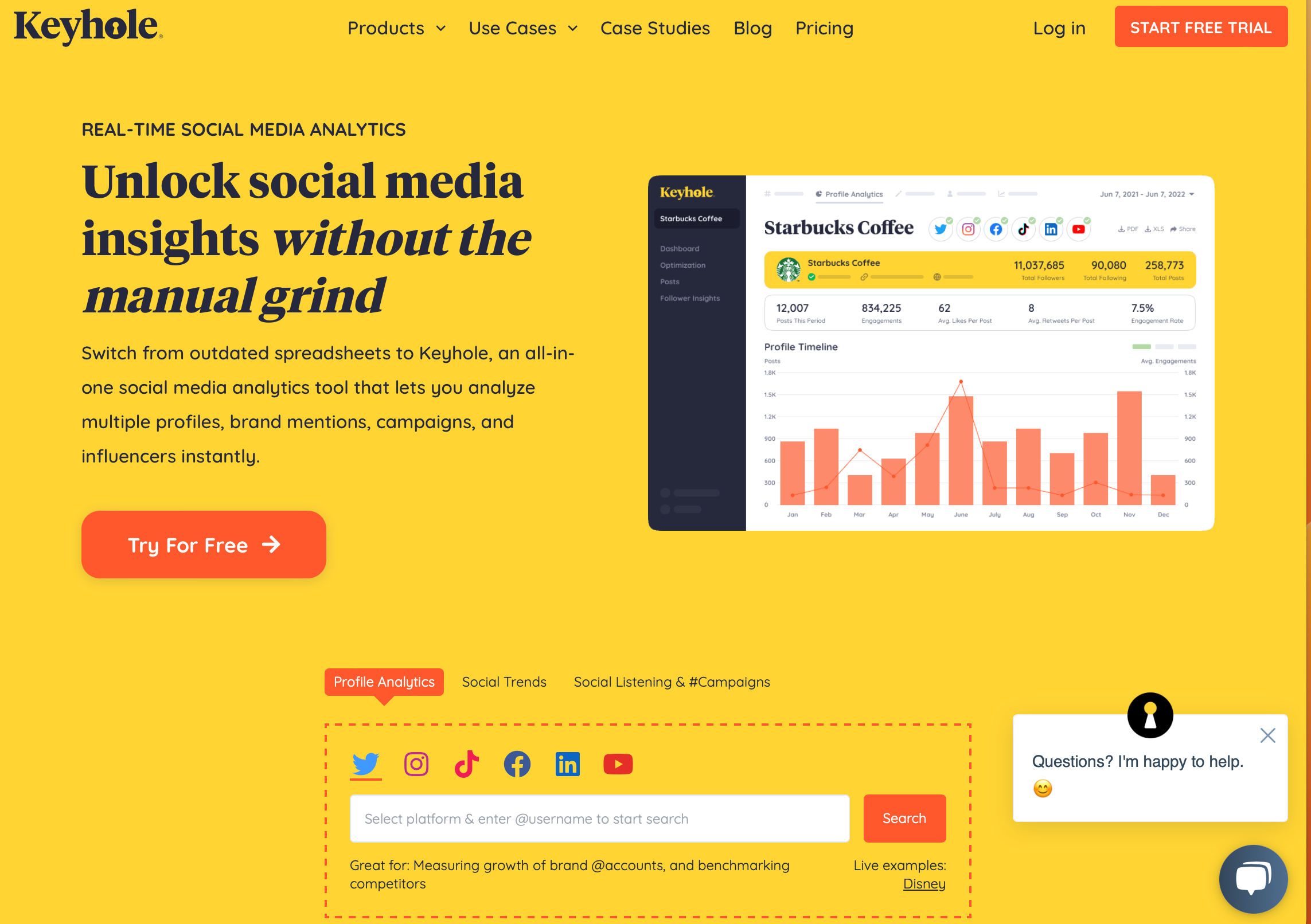 Price: starts at $79/mo.
Main advantage: Keyhole is mainly used for tracking real-time social media mentions
Website: https://keyhole.co
Buffer is a popular platform for social media management mainly due to its simplicity and ease of use but you can also track basic social media metrics and generate simple reports with Buffer analytics.
While it's not as powerful or detailed as Pallyy, Hootsuite, or SproutSocial, Buffer analytics can be helpful for new marketers who are still learning about tracking Twitter insights.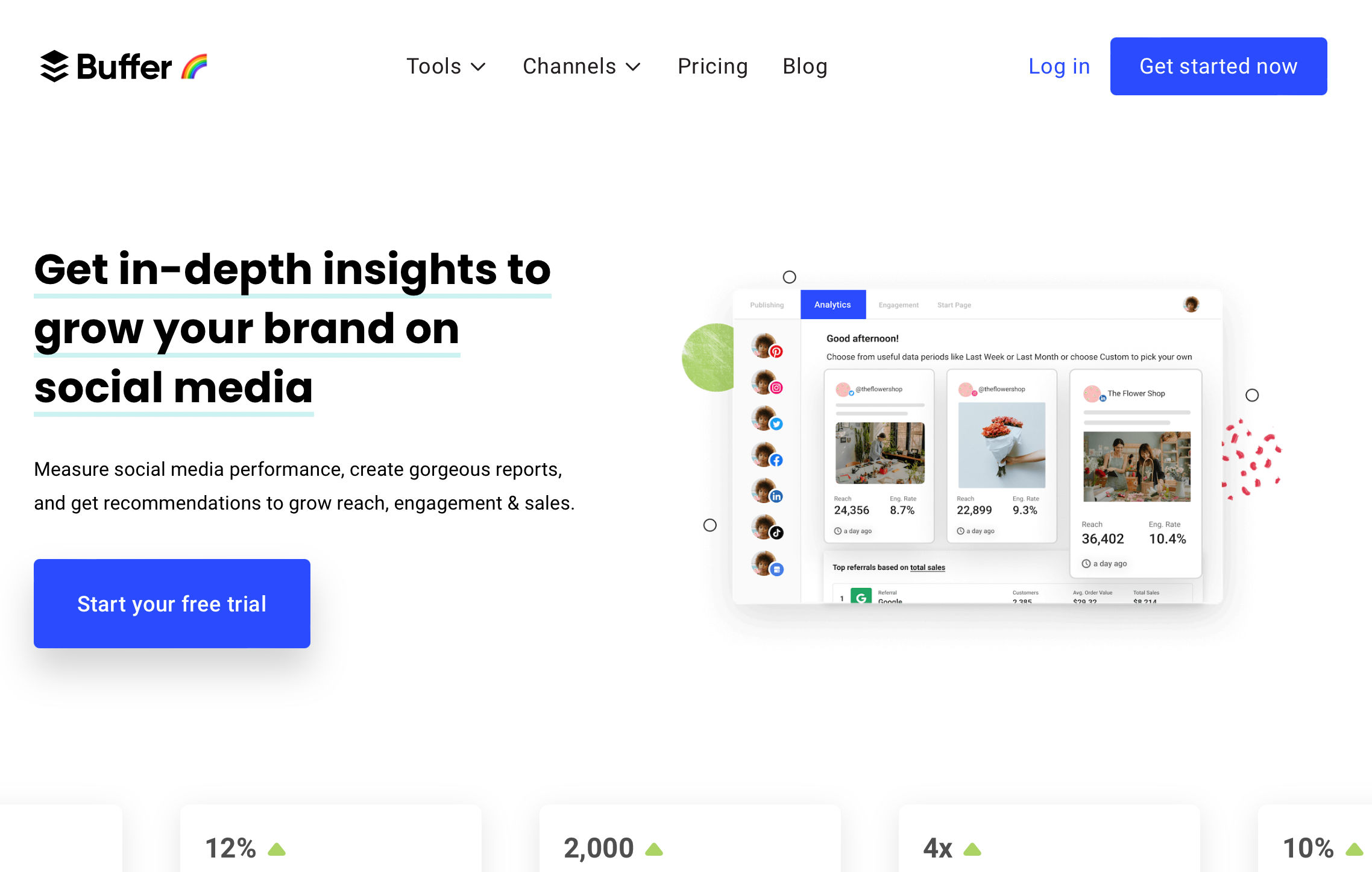 Price: Free plan (without analytics), paid plans from $6/mo.
Main advantage: Buffer has a simple and easy-to-use dashboard for beginners
Website: https://buffer.com